Moderne Küchenobstregale voller Vorteile!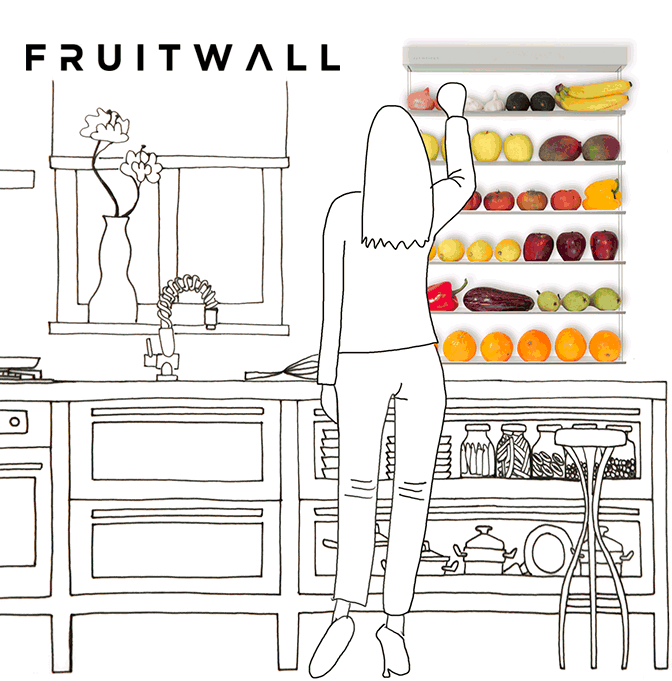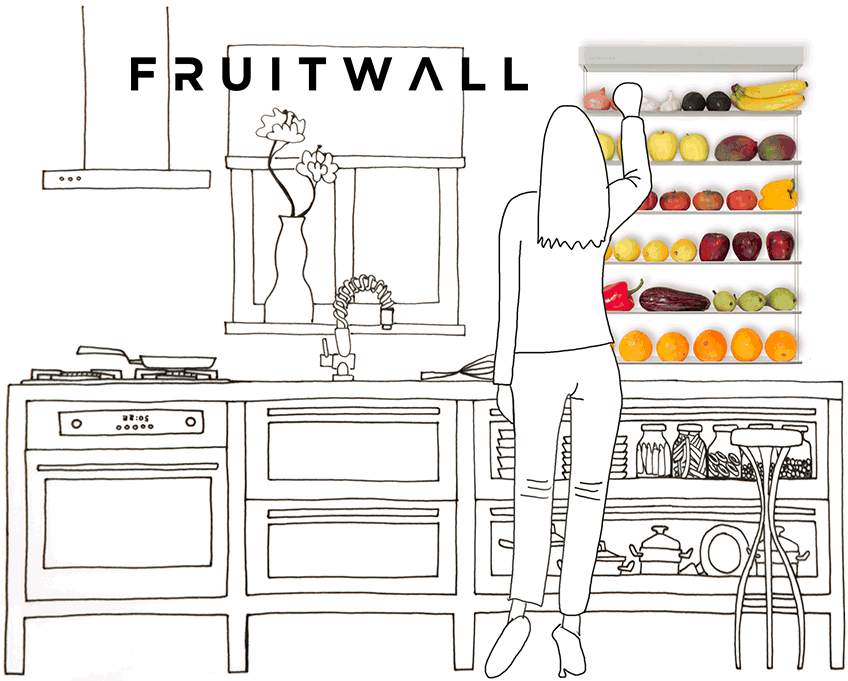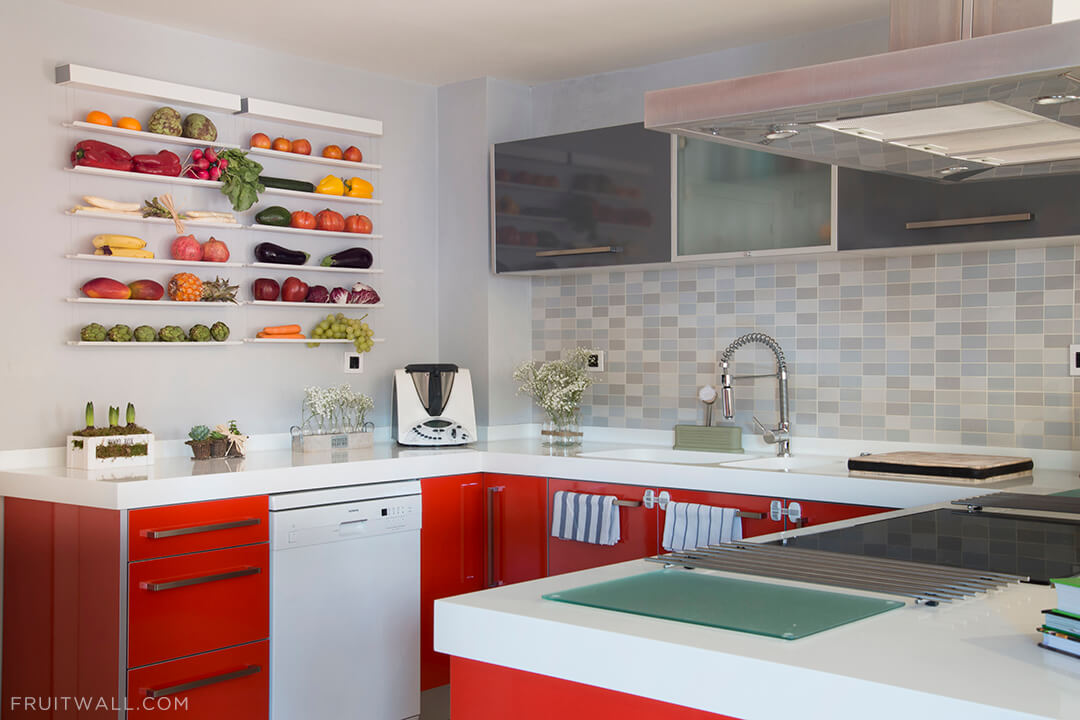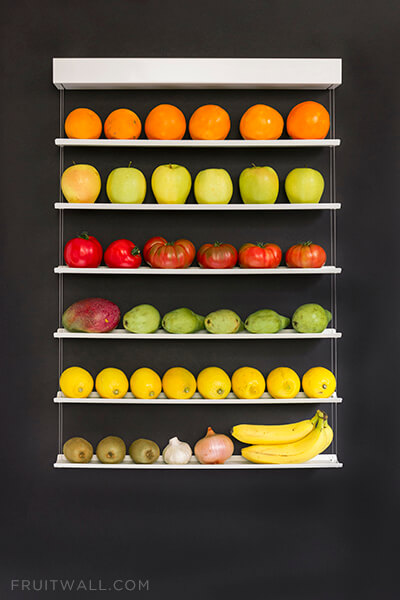 1. Wandobstregale, mit denen Sie Platz gewinnen.
Mit diesem wandmontierten Obstregal erhalten Sie mehr als 3,5 m Regalfläche, die 36 Stück Obst, z.B. Orangen, aufnehmen kann. Sie können somit viel Platz in Ihrem Kühlschrank und Ihrer Arbeitsplatte sparen. Es ist auch sehr einfach zu installieren, es werden nur 3 Schrauben benötigt.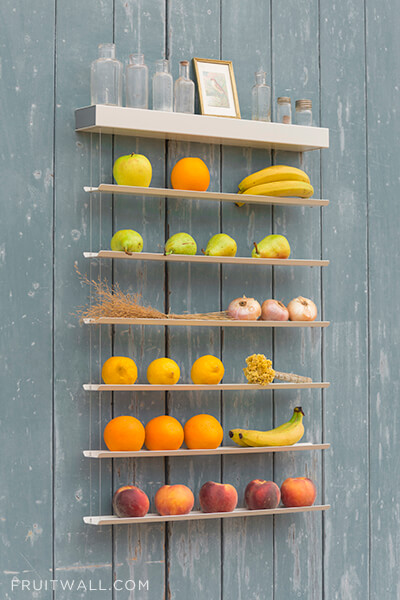 2. Originale Obstregale, die Ihnen helfen, Ihre Küche aufzuräumen.
Sortieren Sie ihr Obst und Gemüse ganz einfach nach Verbrauchsvorlieben, zum Beispiel von links nach rechts. Mit diesem modernen Obstregal sparen Sie Zeit und Geld, denn Sie sehen sofort, was fehlt oder was zuerst konsumiert werden sollte.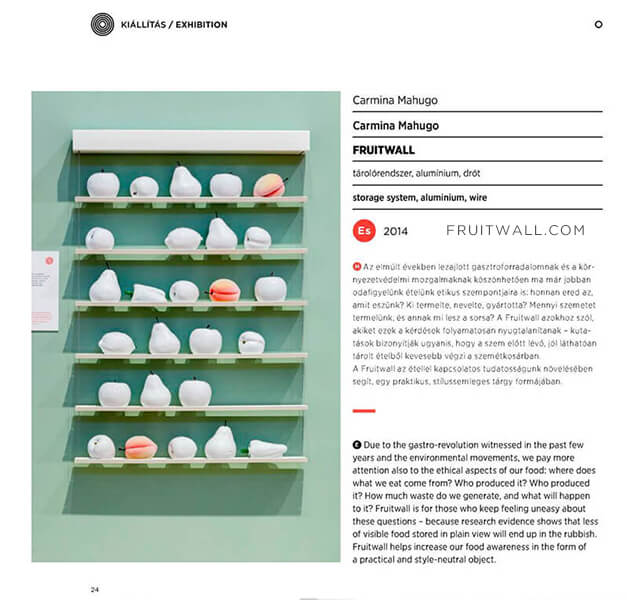 3. Obstregale mit extravagantem Design….
Das Obstregal ist ein dekoratives Element für Ihre Küche, das Sie nach Belieben dekorieren können. Es hat ein originelles und modernes Design, das international anerkannt ist. Es wurde von der renommierten Zeitschrift NY design-milk als "bestes Design Möbelstück für das Jahr 2013" ausgezeichnet.
Diese Design-Fruchtschale wurde auch auf der Beijing Design Week und der Budapest Design Week ausgestellt und von der amerikanischen Fernsehsendung "I Want That" ausgewählt.…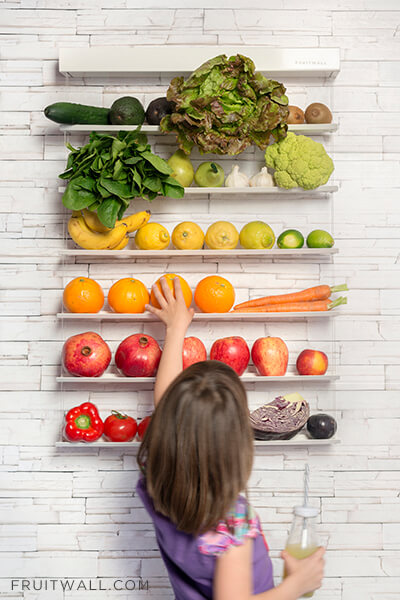 4. Ihr Obst und Gemüse immer zur Hand für alle.
Fördern Sie den Verzehr von frischem Obst und Gemüse, da Sie es immer im Blick haben. Und ungekühltes Obst und Gemüse schmeckt doch eh besser, nicht wahr?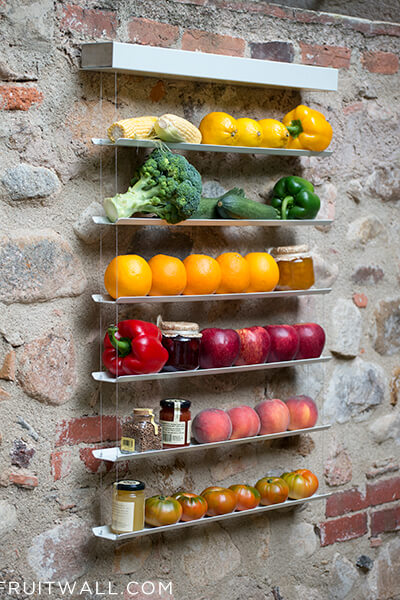 5. Herkömmliche Obstschalen in der Küche lassen die Früchte nicht atmen, FRUITWALL schon.
Dieses originelle Küchenobstregal verhindert, dass Ihr Obst und Gemüse gestoßen oder gequetscht wird. Es ermöglicht Ihnen, sie zu platzieren, ohne dass sie sich stapeln oder sich berühren. Ihr Obst und Gemüse atmet!
Was denken bisherige Käufer darüber?

Wahnsinnig schön!!
War auf der Suche nach einer anderen Aufbewahrung für das Obst.
Die Fruitwall ist so schön! Ich kann mich gar nicht satt sehen. Auch unsere Kinder sind begeistert. Sie lädt dazu ein sich zu bedienen und sieht dabei aus wie ein ständig änderndes Bild 💕 über den Preis könnte man wohl streiten aber die Investition hat sich echt gelohnt!
Genau wie beschrieben!
Das Regal sieht sehr gut aus und lässt sich auch sehr schnell aufbauen! Die Qualität ist auch sehr gut!
Idee, sehr wertig und optisch ansprechend
Die Fruitwall kommt in einem erstaunlich kleinen und kompakten Karton aus Spanien.
Die einzelnen Teile sind gut und sauber verarbeitet. Im Gegensatz zum Flyer liegen auch drei Schrauben bei, allerdings sind wie immer die örtlichen Gegebenheiten zu beachten.
Der Aufbau geht schnell und problemlos von statten – die gesamte Konstruktion wird anhand der drei Schrauben an der Wand befestigt. Die einzelnen Einlageböden werden eingehängt und hängen dann unter dem Korpus.
Die Fruitwall macht einen sehr stylischen Eindruck – leider sind wir noch nicht voll bestückt (siehe Foto), da wir kurz davor erst Saft ausgepresst haben. Die Materialien sind hochwertig und gut verarbeitet. Dafür hat die Fruitwall allerdings auch einen stolzen Preis, was sicherlich einige potentielle Käufer abschreckt.
Fazit: stylisch, hochwertig, teuer – dennoch knappe 5 / 5.
Lohnt sich!
Ist sie teuer, JA! Das kann ich nicht abstreiten, aber sie ist es tatsächlich wert.
Es gibt keinen Besseren Platz für sein Obst, es sei denn man ißt nur Melonen, dann wäre sie nix.
Wir haben lange überlegt, weil sie so teuer ist… für eine "Obstschale"
Aber das ist sie nicht nur. Sie ist der Eyecacher in der Küche. Sie ist ein ständig wechselndes Bild. Ich werde auch von, ich glaube jedem Gast bisher, darauf angesprochen.
Tolles Teil!
Ich habe meine fruitwall jetzt schon fast drei Jahre. Sie ist immer noch ein echter Blickfang. Es ladet wirklich zum Obstessen ein!
"One of my favorite purchases of the year
One of my favorite purchases of the year (2016).. I love the way it looks. Cleared off my counter space. I live in a condo and this is such a creative way to save space. You don't forget about your fruit. It's worth the price. Excellent quality."
" Easy to install and happy to display
Easy to install and looks great! We love the look of the fruitwall, keeps fruits organized easily, frees up counter space and makes all the fruit much more accessible for everyone to eat since it is displayed in plain site. We are very happy with this product"
Das sind die Maße .Passt? Toll, da haben Sie Glück!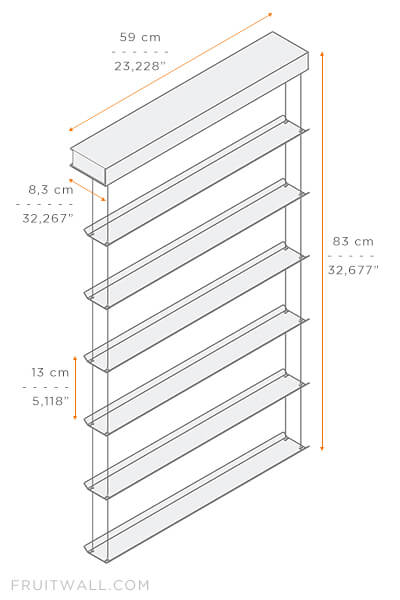 Wenn Sie sehen möchten, wie einfach die Montage ist, klicken Sie hier.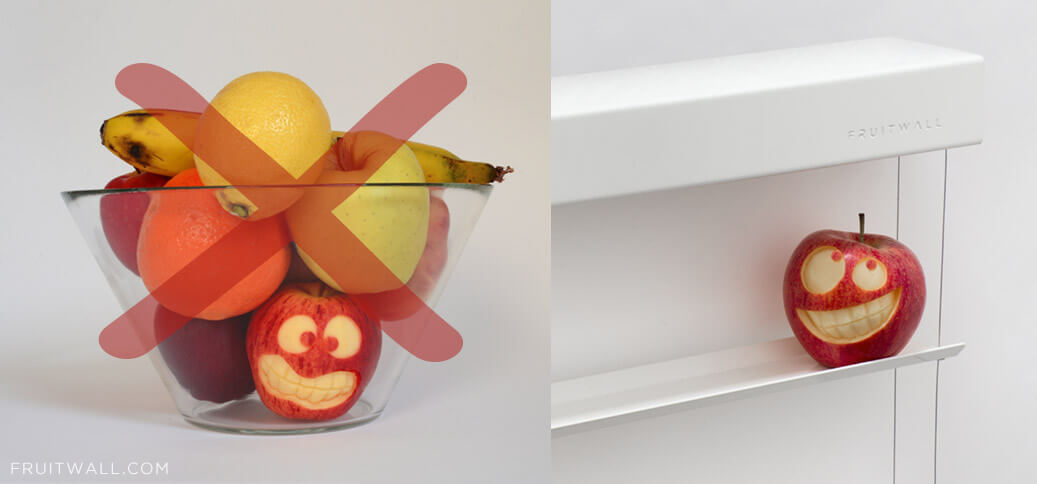 Möchten Sie FRUITWALL-Partner werden? Erfahren Sie hier, wie Sie einer werden können.