Modern kitchen fruit bowls full of advantages!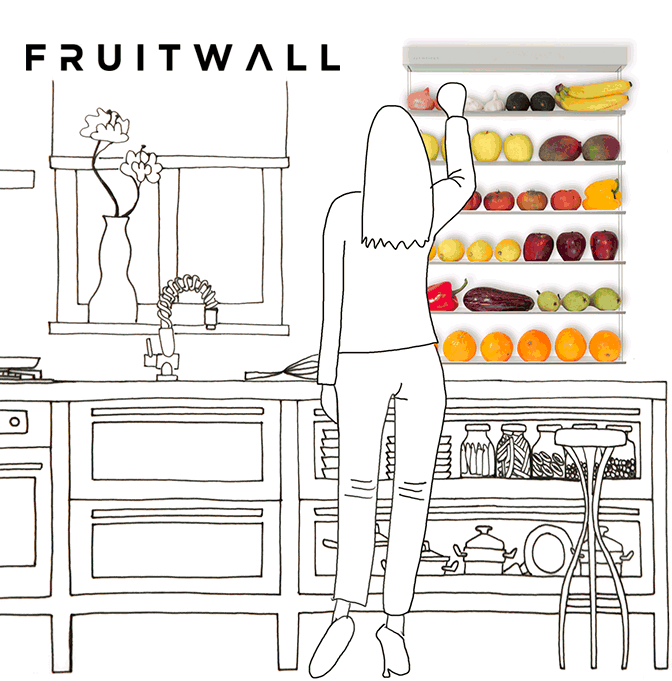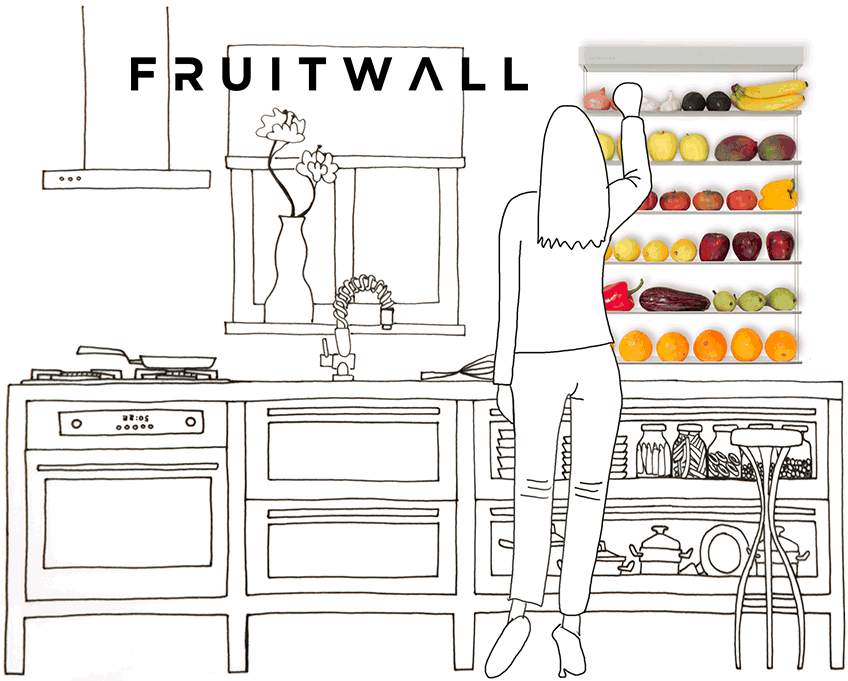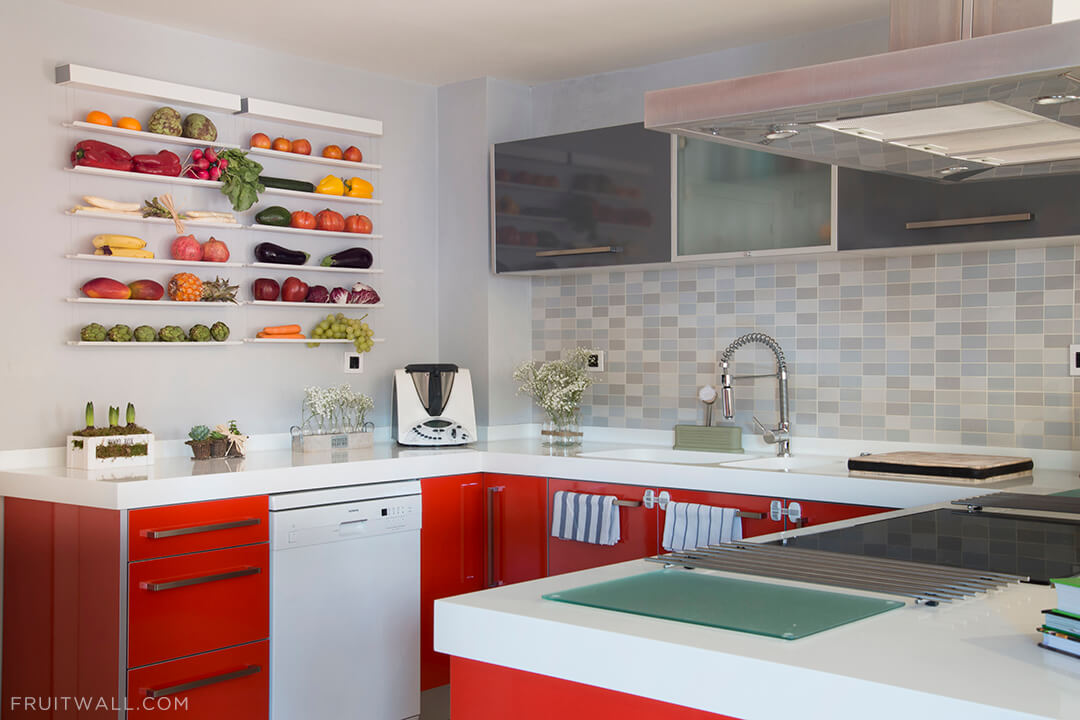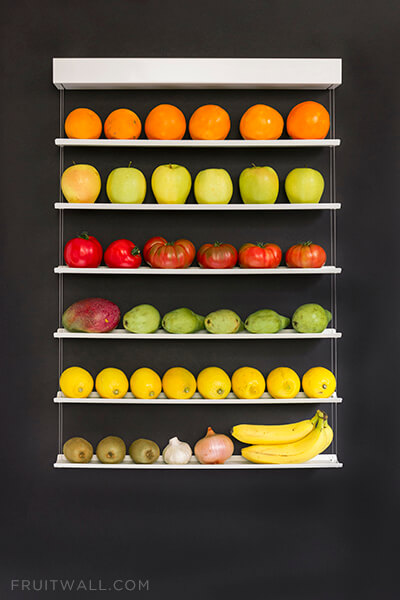 1. Hanging fruit bowls that save you space.
With this hanging fruit bowl you'll have more than 3.5m of shelving, which is enough for 36 oranges. You'll free up lots of space for your refrigerator and your counter. Plus it's so easy to install, you only need 3 screws.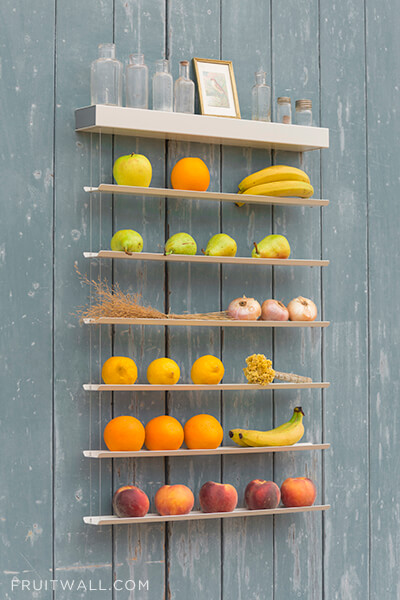 2. Original fruit bowls that help to organize your kitchen.
It makes organizing your fruits and vegetables easy however your prefer, from left to right for example. With this modern fruit bowl you'll save time and money by seeing what ingredients you need or what should be eaten before spoiling.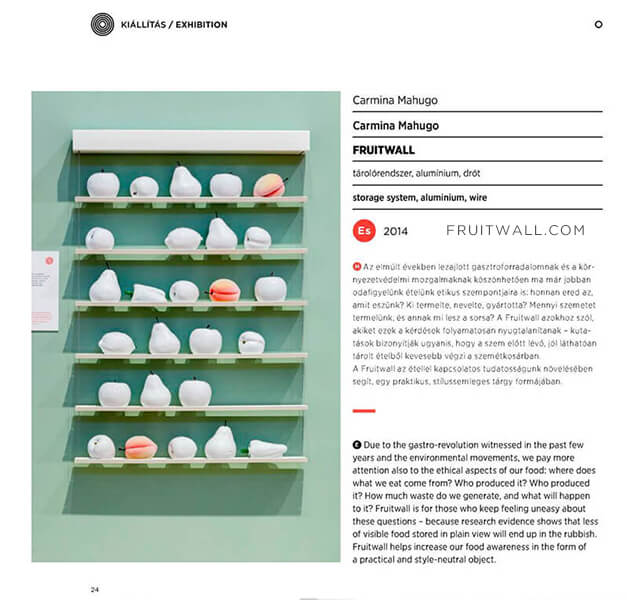 3. Design fruit bowls with recognition…
It's a decorative element for your kitchen that you can customize as you prefer. Its original and modern design is internationally recognized. It was selected "Best Design Home Furnishing 2013" by the prestigious NY magazine Design Milk. This uniquely designed fruit bowl has also been exhibited at Beijing Design Week and Budapest Design Week and featured on the American television program "I Want That!"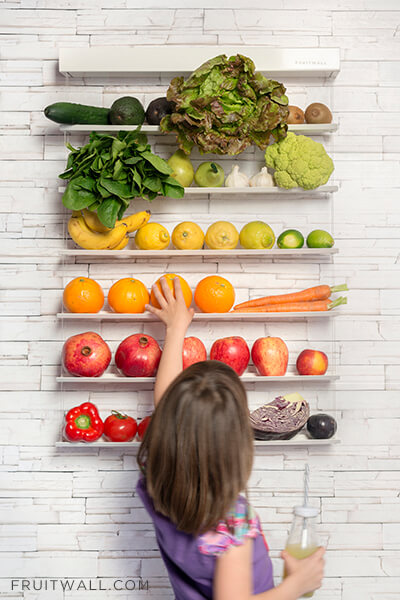 4. Your fruits and vegetables always within reach, for everyone.
Encourage eating more fruits and vegetables by always having them in sight. Plus, room-temperature produce always tastes better, don't you think?
5. Old kitchen fruit bowls don't allow fruit to breathe, but FRUITWALL does.
This unique kitchen fruit bowl prevents your fruits and vegetables from being bruised or squashed. It lets you store your produce without the pieces piling up or touching. Your fruits and vegetables breathe!
"I'm glad I went with this purchase
While this was more than I wanted to spend, I'm glad I went with this purchase. I love not having all our fruits and veggies on the counter! Was a breeze to hang up and very well made.
"I love this fruit/vegetable display
I love this fruit/vegetable display. We grow quite a bit in the Spring and Summer, and piling fruits and vegetables can be dangerous as the bottom ones can start to rot or just become squashed, especially the ones fresh from the garden. Plus it makes such a lovely and colorful display. Well worth the price. Plus, giving me more counter space. "
"Perfect solution for small kitchen!
We have had ours for near near 2 months and so happy with it. Easy to assemble and install. The shelves are made of aluminum hung with metal wire. Very sturdy and easy to wipe clean. Love the way fruits vegetables are displayed in whatever pattern or order you desire. Amazing to see how much counter space we saved by putting this up on one of the walls. Also, no more bruised and rotted fruit buried in fruit bowls. Thank you!"
"Great product!
Awesome product! I searched for clever ways to clear my counters of fruit bowls and found this. I am so happy I did. It really is a well made and sleek looking product. It helps that I have a dark accent wall already in my kitchen to mount it on. My only suggestion is to use better anchors if you don't have studs to drill into–it comes with only three screws."
"One of my favorite purchases of the year
One of my favorite purchases of the year (2016).. I love the way it looks. Cleared off my counter space. I live in a condo and this is such a creative way to save space. You don't forget about your fruit. It's worth the price. Excellent quality."
" Easy to install and happy to display
Easy to install and looks great! We love the look of the fruitwall, keeps fruits organized easily, frees up counter space and makes all the fruit much more accessible for everyone to eat since it is displayed in plain site. We are very happy with this product"
These are the dimensions. Do you have space? Then you're in luck!