Lentil and carrot burgers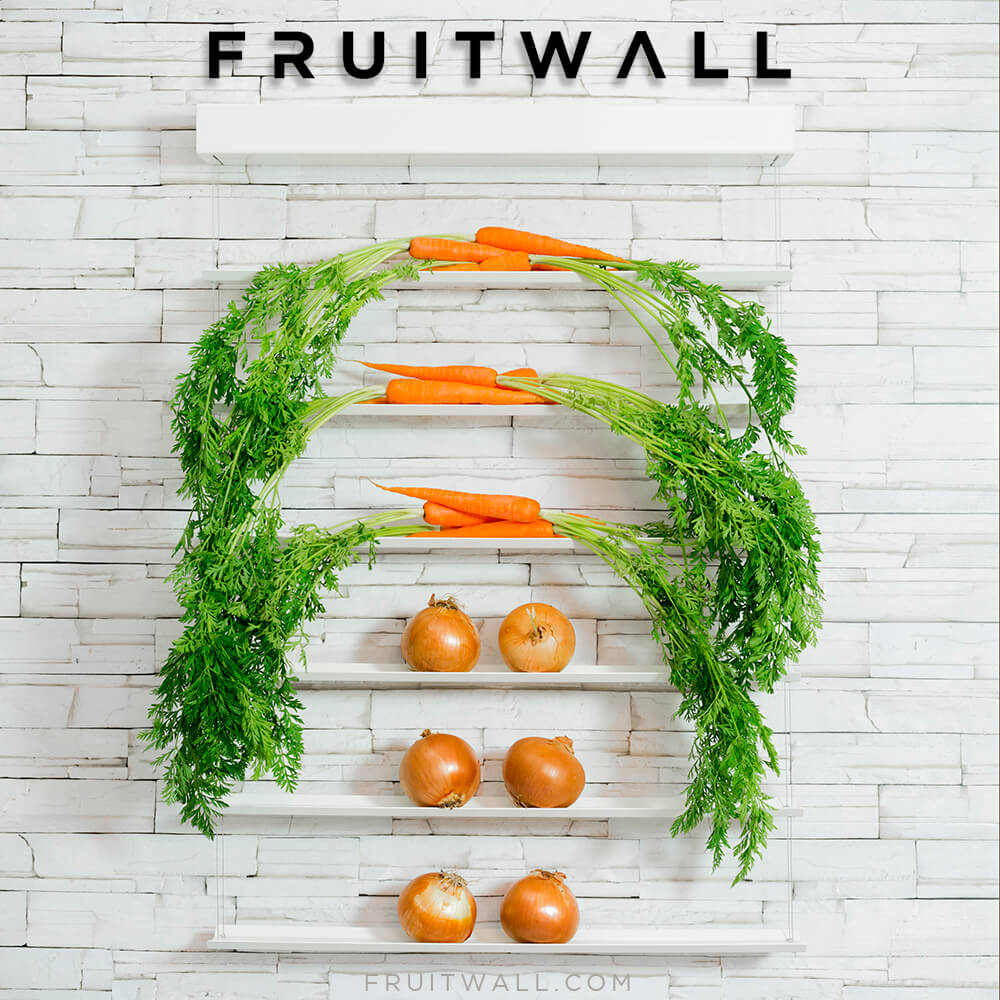 I want to learn more about FRUITWALL           I want to buy FRUITWALL
Lentil and carrot burgers
For a lot of moms, getting their children to eat fruits and vegetables can be an ordeal. It's hard to imagine what kid would prefer lentils over a delicious hamburger. Maybe there are some out there who would take the lentils, but most children would probably go for fast food before something healthy, and sweet snacks before something fresh out of the fruit bowl.
Today we're sharing a super tasty recipe for kids that will help you stick to a healthy and balanced diet while also keeping an eye out for your whole family's nutrition, lentil and carrot burgers.
It's also a vegetarian recipe that combines healthy foods like legumes and vegetables, which provide lots of important nutritional properties.
Lentils are crucial in a vegan or vegetarian diet because of their high protein content, which is a good alternative for meat. They also provide fiber, which helps prevent constipation and are great for people with cardiovascular problems. They are savory and filling without too many calories, which makes them an excellent option for healthy weight-loss diets.
Now it's time to start preparing this quick and easy recipe that doesn't require a whole lot of time, or any special kitchen utensils either.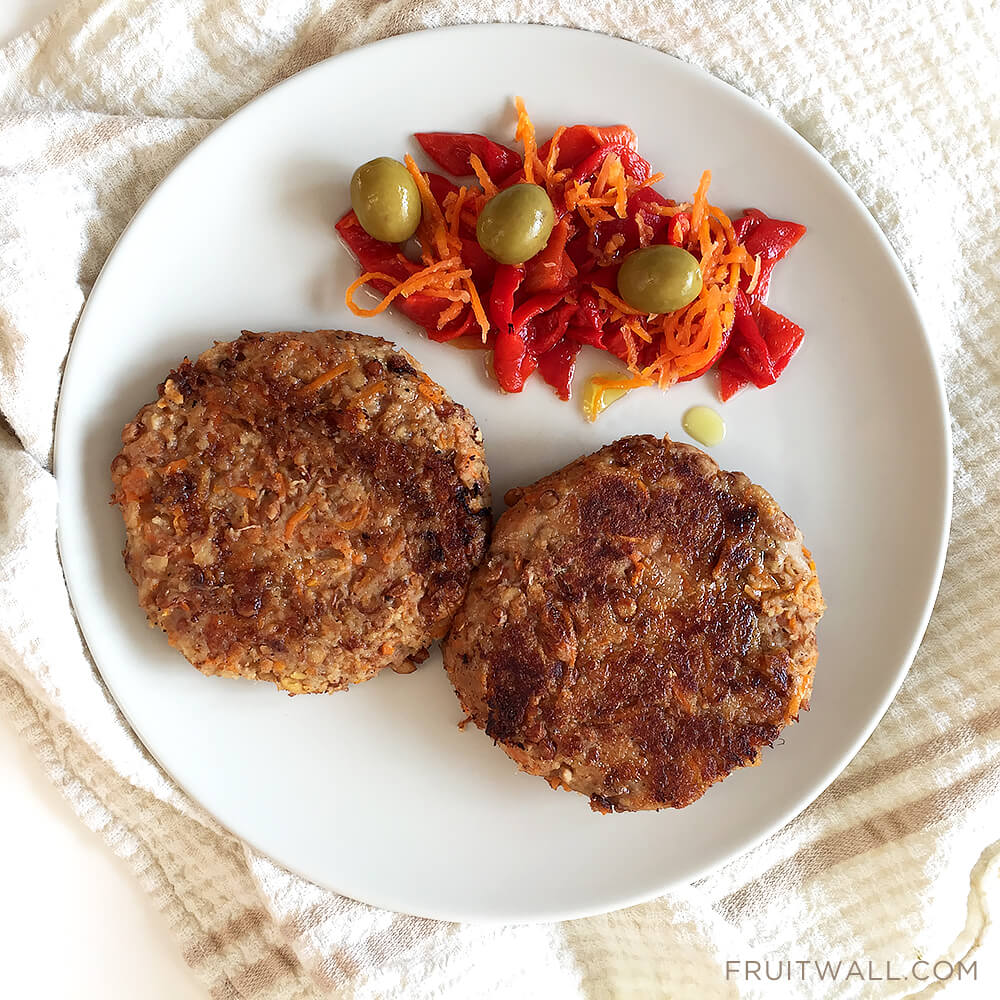 INGREDIENTS
You can grab the vegetables off of our original FRUITWALL fruit bowl 🙂 What do you think of how we've decorated it for our recipe?
500 grams of lentils
4 carrots
3 onions
Bread crumbs
Oil
Soy sauce (optional)
PREPARATION
If you are using dry lentils, allow them to soak overnight the day before preparing the recipe so that you can later rinse them and mash them with the help of a fork.
Chop the onion and fry it in the oil, being careful not to let it burn. Meanwhile, peel and grate the carrots. Once the onions get a perfect soft texture, incorporate the carrots into the frying pan and season with salt and a splash of soy sauce. Remove the mixture from the heat, turn off the stove, and let stand. Once the ingredients are well mixed, combine them with the mashed lentils and begin to create a homogenous dough. The breadcrumbs are used to absorb excess moisture and to add consistency to the medallions, so add them little by little until you can form the burgers and they maintain a compact shape. For the best shape, make a ball and then flatten it. Keep in mind not to add too much breadcrumb or you might end up with dry burgers. These burgers can be fried or baked using some oil spray, if you are following a weight-loss diet.
To serve, you might choose to accompany the dish with a fresh salad of your favorite vegetables, or make classic burgers with buns and cheese, which should make this healthy meal even more appealing to children. You can add other vegetables to take advantage of what you have at home, like boiled spinach or grated beets. Whatever extras you decide to use, they should be incorporate at the same time as the carrots. The design of the FRUITWALL fruit bowl lets you visualize the fruits and vegetables that you have, so you can plan your healthy diet without wasting ingredients. Plus, it will help you to organize your kitchen while also adding a special decorative touch with all the colors of your produce.
Test out this recipe and you'll see how everything in the family will love this healthy and nutritious meal.
Enjoy your meal!
I want to learn more about FRUITWALL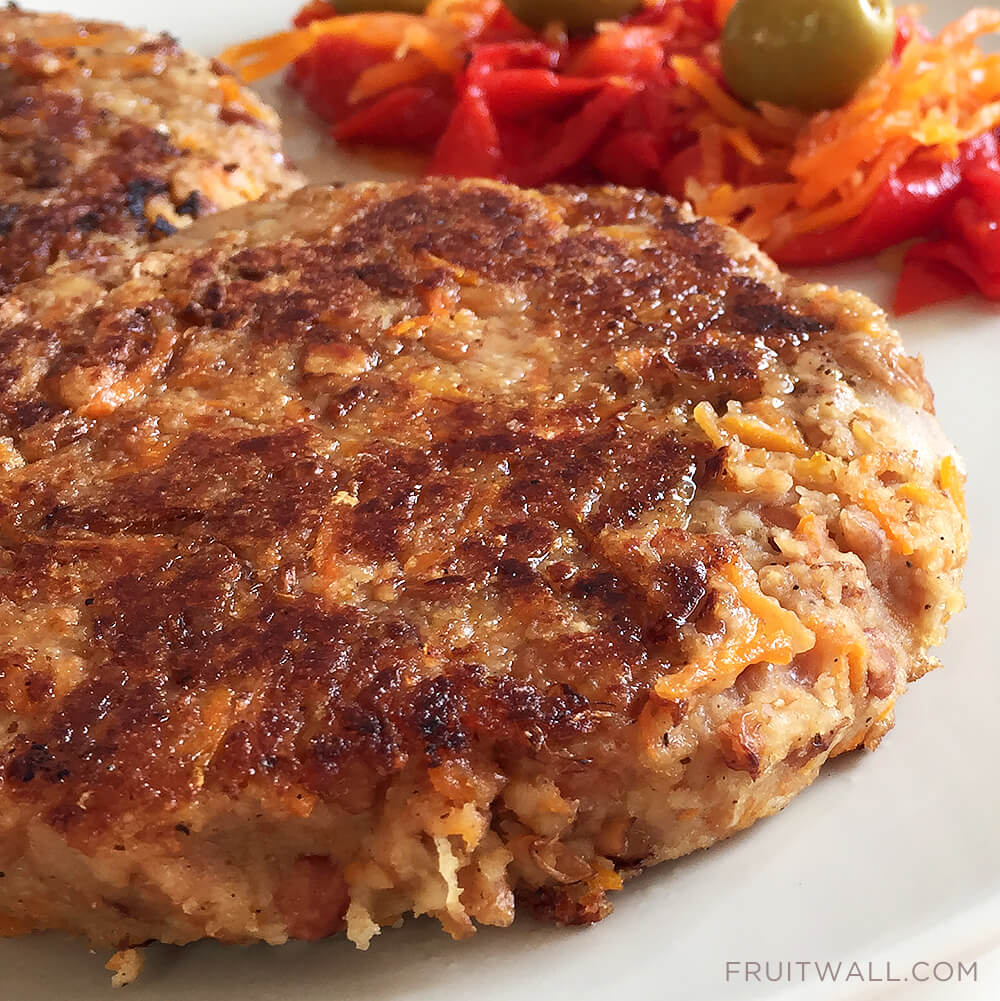 I would like to read more about the benefits of having a FRUITWALL