Fruteros de cocina modernos llenos de ventajas!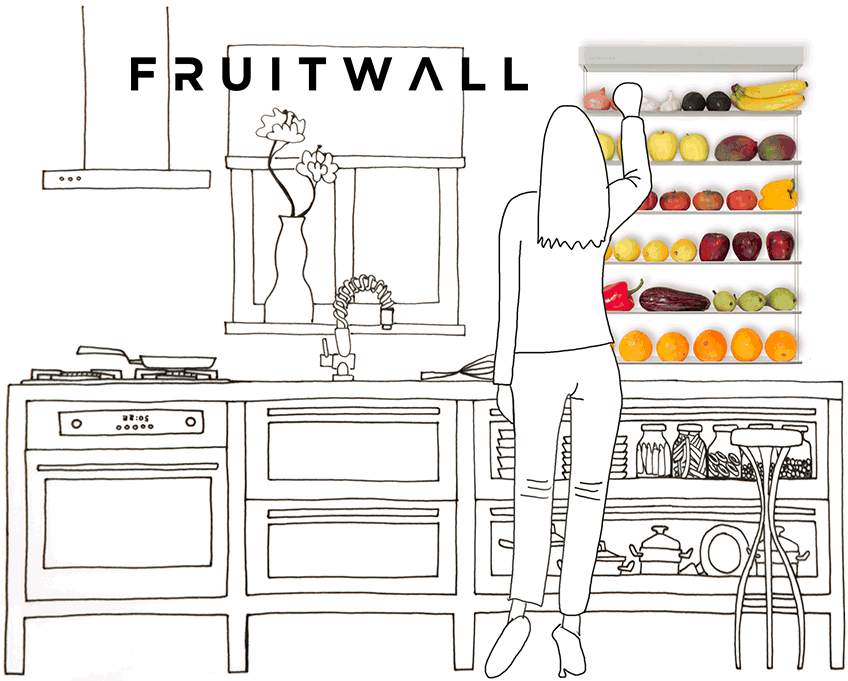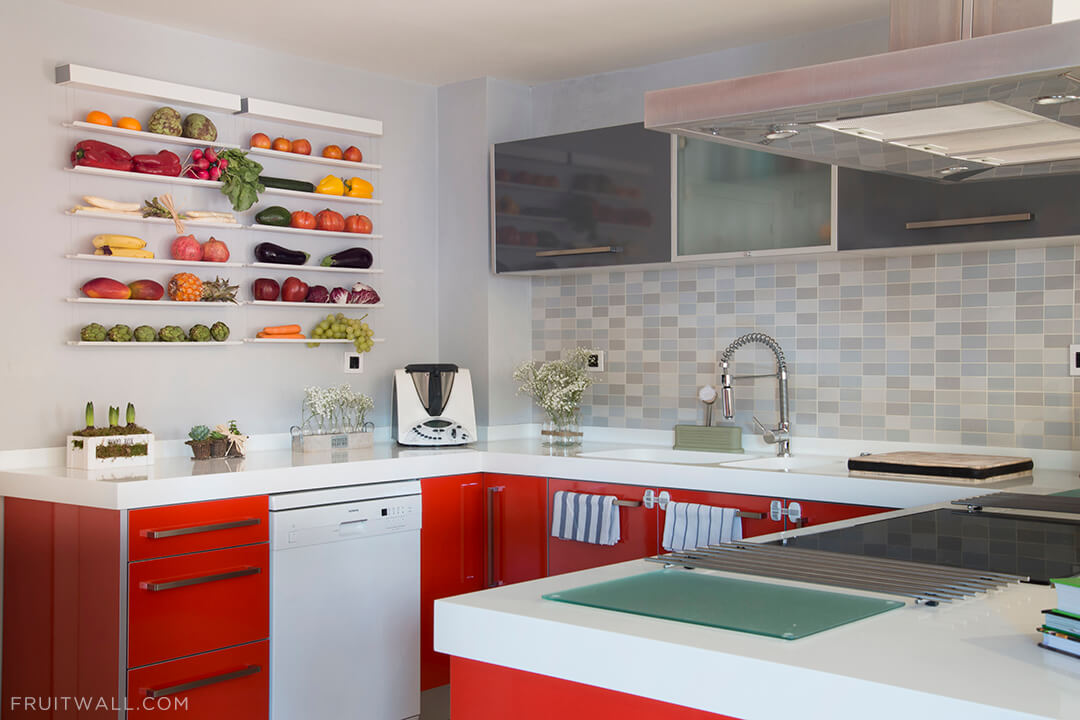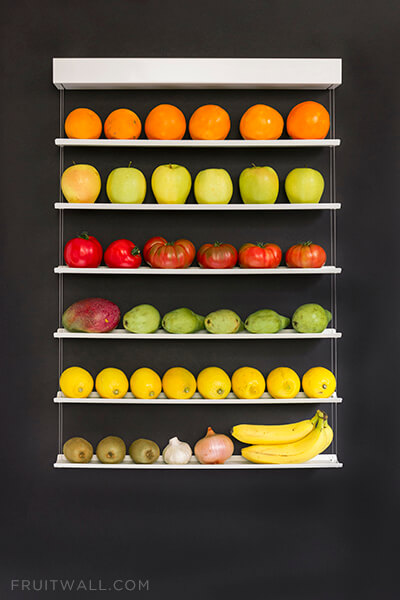 1. Fruteros de pared con los que ganas espacio.
Con este frutero de pared ganas más de 3,5m de estantería, donde caben por ejemplo 36 piezas tipo naranjas. Conseguirás liberar mucho espacio de tu nevera y tu encimera. Además es muy fácil de instalar, tan solo se necesitan 3 tornillos.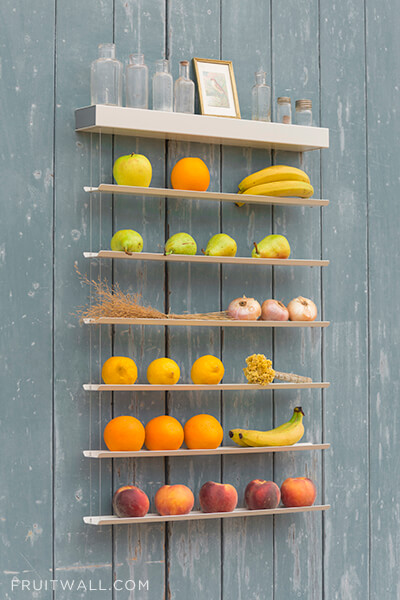 2. Fruteros originales, que ayudan a ordenar tu cocina.
Facilita ordenar la fruta y la verdura según preferencia de consumo, por ejemplo de izquierda a derecha. Con este frutero moderno Ahorras tiempo y dinero, porque enseguida, ves lo que falta o lo que se debería consumir antes.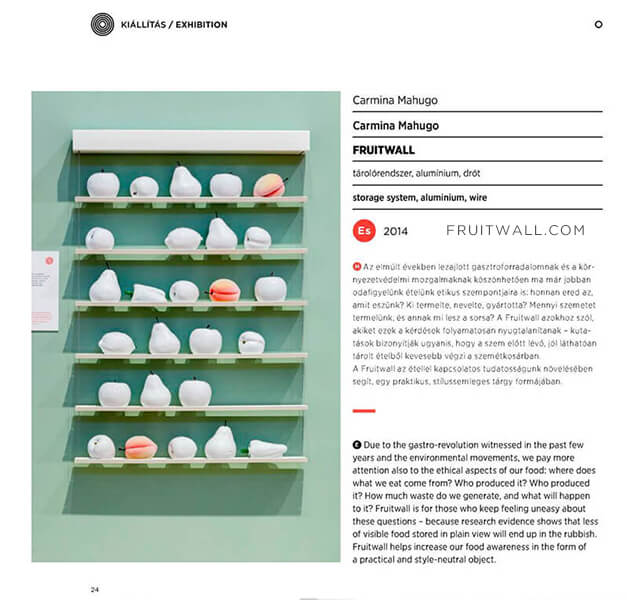 3. Fruteros de diseño reconocido…
Es un elemento decorativo para tu cocina, que puedes adornar como prefieras. Tiene un diseño original y moderno reconocido internacionalmente. Ha sido elegido "mejor mueble para el hogar diseñado en 2013" según la prestigiosa revista de NY design-milk. Este frutero de diseño también ha sido expuesto en la Design Week de Beijing y Design Week de Budapest y escogido por el programa de TV americano «I Want That» ….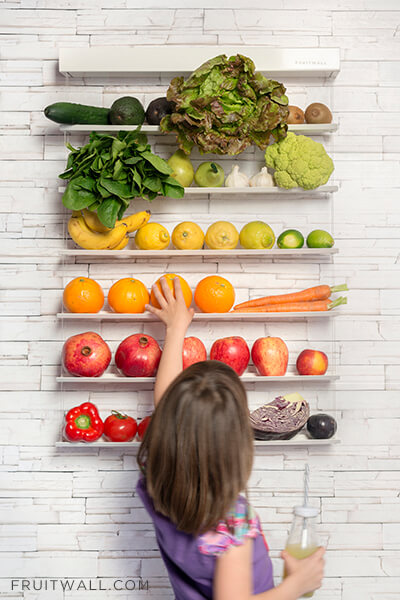 4. Tus frutas y verduras siempre a mano para todos
Fomenta el consumo de frutas y verduras frescas porque las tienes siempre a la vista. Además la fruta y verdura no refrigerada sabe mejor ¿Verdad?.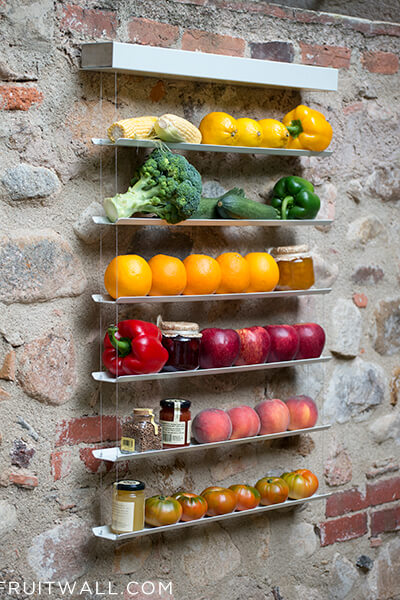 5. Los fruteros de cocina antiguos no dejan que la fruta respire, FRUITWALL si.
Este original frutero de cocina, evita que tus frutas y verduras se den golpes o se aplasten. Te permite colocarlas sin que se amontonen y sin que se toquen. Tus frutas y verduras respiran!
¿Qué opinan los compradores?

"Un producto fenomenal
No sólo es muy util para que la fruta no se estropee sino tambien es muy decorativo y trae alegría en mi cocina.
¡Desde cuando lo he instalado todo el mundo me pregunta donde lo encontré!
Seguro que os vais a enamorar de este incréible producto nacido de una idea tan sencilla
y al mismo tiempo genial!"
"Salud, sabor y diseño. Una idea brillante. Una idea 10.
Una idea brillante. La perfecta combinación de salud, sabor y diseño. Salud, porque fomenta el consumo de fruta y verdura fresca. Sabor, porque la fruta y verdura no refrigerada sabe mejor. Y diseño, porque decora y aromatiza la estancia. Original y actual. Y a un precio más que razonable. Recomendado para toda aquella persona que le guste cuidar su dieta y su salud a la vez que decorar y ambientar su hogar con productos naturales. "
"Fruitwall es genial
Acabo de colgar mi Fruitwall hoy. Hago un gran uso de una pared que era inútil debido a que está junto a la puerta de entrada a mi sala de estar. El Fruitwall se ve muy elegante y fresco y cabe una tonelada de fruta. ¡Estoy seguro de que ayudará a evitar que mi fruta se magulle y ser un buen recordatorio visual para comer fruta! ¡Adoro mi Fruitwall!"
"Un producto útil y con un gran diseño.
Decidí cambiarlo porque en el carro verdulero tradicional mis gatos hacían de las suyas. Muy práctico y con diseño original. La empresa fue muy atenta en todo momento, atendiendo mis peticiones y cumpliendo con los plazos."
"One of my favorite purchases of the year
One of my favorite purchases of the year (2016).. I love the way it looks. Cleared off my counter space. I live in a condo and this is such a creative way to save space. You don't forget about your fruit. It's worth the price. Excellent quality."
» Easy to install and happy to display
Easy to install and looks great! We love the look of the Fruitwall, keeps fruits organized easily, frees up counter space and makes all the fruit much more accessible for everyone to eat since it is displayed in plain site. We are very happy with this product»
Estas son sus medidas, ¿Te cabe? Entonces estás de suerte!