What is FRUITWALL?
FRUITWALL is an innovative system for storing fruits and vegetables, consisting of shelving that appear suspended in the air; they are easy to attach to the wall. They include fixed bolts with six light hanging trays. The result? More than 3.5 meters of shelving, ideal for keeping food at room temperature while occupying the least amount of space.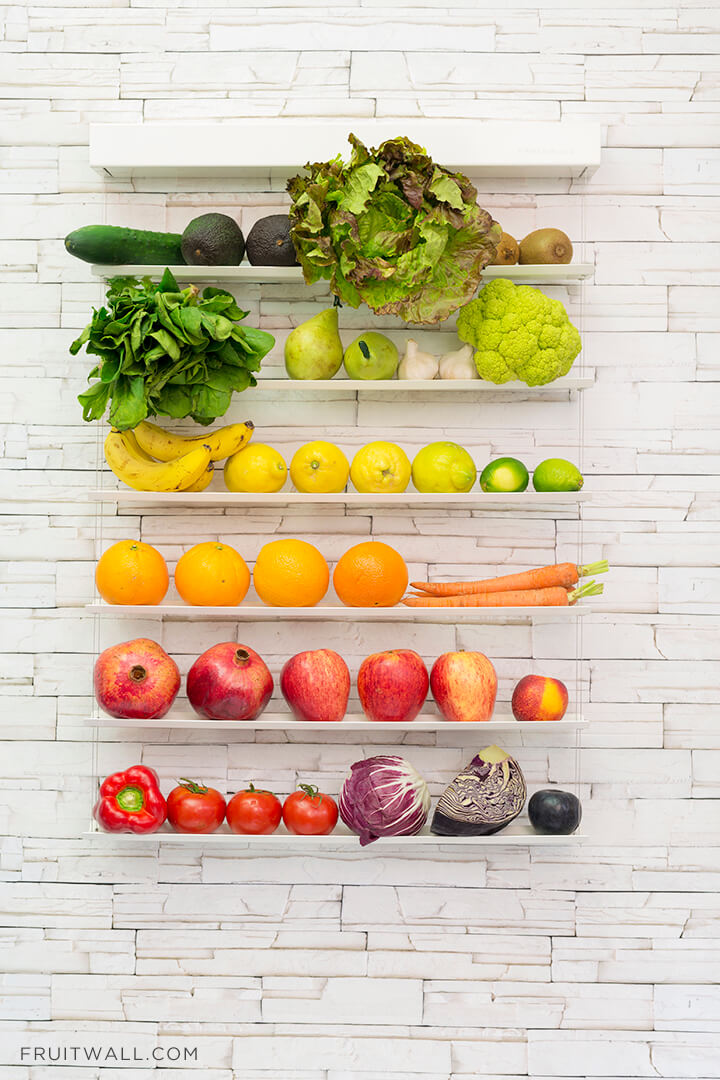 FRUITWALL has many useful advantages:
1. Avoid having your fruits and vegetables bruised and squished.
Isn't it a drag finding that last rotten apple at the bottom of a normal fruit bowl? And even worse when the others around it have gone bad as well? Plus it's a pain to clean everything up! That's one of the things we most love about FRUITWALL – since your produce doesn't bump or bruise, it's less likely to rot and more likely to breathe! So your fruits and vegetables will last longer than if they were piled up in a bowl.
2. Easy to Clean
Not many people like to waste their time cleaning things up, so we made FRUITWALL super easy to clean! We really mean it! Just wipe the metal shelves with a damp washcloth whenever necessary and that's it! The metal shelves are completely smooth without any slits or sharp holes, so it couldn't be easier. Plus, you can clean them either while hanging, or by removing them individually – as you prefer. Did I mention we don't like cleaning?
3. Save Space on Your Countertop and In Your Refrigerator!
This was the first advantage that really influenced the design of FRUITWALL, and we explain a bit more about this in the "About Me" section, if you'd like to know more.
If you're like us, you love eating fresh and seasonal fruits and vegetables – there's nothing healthier! And perhaps you have one or more traditional fruit bowls taking up precious space on your counters or table, or maybe your refrigerator is ready to burst!
Using just 3 screws anchored to a wall, FRUITWALL offers more than 3,5m of shelving. To give you an idea, that's enough space for 36 large oranges! It's really a lot, but feel free to check yourself!
Of course you can also place other things on your FRUITWALL – a small plant, spices, or whatever you prefer! We love seeing photos of how our customers use their FRUITWALL.
4. Keep Your Food at Room Temperature
We're not particularly fond of icy cold lemons and half-frozen tomatoes, although it's true that tastes vary for everyone. Personally, we believe that keeping produce at room temperature helps best accentuate its natural flavor.
Plus, there are actually certain fruits and vegetables that should not be kept in the refrigerator.
With FRUITWALL, you'll always have your produce in sight, in reach, and at room temperature whenever you need!
5. Save Time
FRUITWALL is a time saver because with one simple glance you'll know what you need to pick up at the store or the market, instead of digging around in the refrigerator or rummaging everything in your traditional fruit bowl, leaving everything even more bruised than before!
With FRUITWALL this doesn't happen, because everything is in sight! Just take a quick look and carry on with your grocery list.
6. Save Money
No one likes throwing away food. Another advantage of FRUITWALL that we realized over time was that you can easily see what you need from the store, which helps to avoid buying too much of something or duplicate items. It's also easy to see which pieces of produce should be eaten soon, if they're starting to look overripe. You'll throw away less food and save yourself plenty of frustration.
7. Organize According to Date
Yes! If you're someone who loves to organize, you can now even organize your fruit! For example, if I buy 4 apples and already have 2 apples on my FRUITWALL, I can just move the older 2 to the left and everyone at home will know that those should be eaten first. It's easy! It's another of the advantages that will save you time and money by reminding you which fruits and vegetables are most ready to eat.
8. Showcase an Award-Winning Design
If you've made it this far along because you like FRUITWALL, then you should know that you have excellent taste! FRUITWALL was voted the Best Home Furnishing of 2013 by readers of Design Milk.
It has also been featured at Beijing Design Week and Budapest Design Week, and was selected for the American television program I Want That.
It was also honored as one of the Top 10 Most Innovative Products at the International Home + Housewares Show in Chicago, and has enjoyed positive press in many different languages and countries.
You can take a look at our website to see more reviews of FRUITWALL.
8. Everything is Recyclable
If for whatever reason you decide to stop using your FRUITWALL, you should know that all of its materials and components, as well as all of its packaging, are completely recyclable!
We believe that the process by which goods and products are made can be just as important as their final purpose in our homes. We can all work together to make the world more sustainable.
10. A Reminder to Eat Healthy, Especially for Children
Having your fruits and vegetables in sight and at room temperature, which preserves their natural taste and aroma, is the perfect reminder to enjoy a healthy snack.
Just passing by your FRUITWALL you'll be reminded that a piece of fruit is a healthy snack between meals.
11. Easy to Install!
FRUITWALL is super easy to hang! It uses just three screws anchored to a wall! All of the metal trays hang from highly resistant steel cables, which visually make the trays appear to float in the air.
You'll never get bored of this timeless and minimalist design, especially because FRUITWALL tends to serve as an elegant backdrop for what will surely be beautiful and ever-changing compositions of the fruits and vegetables you put on it!
Click here to watch an animation of just how easy it is to install.
12. A Beautiful Product
We don't mean to boast, but we truly believe that FRUITWALL is a beautiful product for your home. In fact, lots of our customers tell us the same thing: "Ever since I hung my FRUITWALL, everyone who comes over asks me about it!" or "All my guests love my FRUITWALL!"
FRUITWALL is like a living work of art that constantly changes during all four seasons, or simply according to whatever you prefer to put on it. But don't let us convince you, take a look at all of the positive reviews on our website from other "FRUTIWALL Lovers!"
Modern kitchen fruit bowls that are full of advantages!
Do you dare to evolve?
What is Included?
FRUITWALL is delivered in a conveniently-sized package, which includes all the necessary elements for assembly.
1 steel bolt for attaching the product to the wall.
1 frontal cover that covers the support.
4 steel cables with ends included
6 aluminum trays covered with paint suitable for contact with food.
3 screws of the appropriate size for the bolt supports. Please buy the adequate plugs according to the make of your wall (check at your hardware store)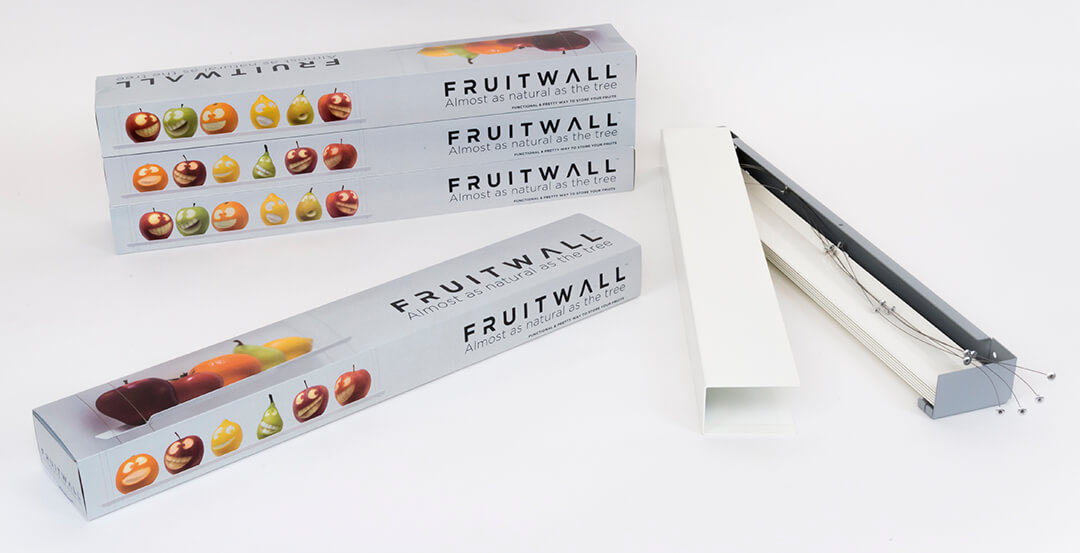 Any questions?
If you have any questions or comments, don't hesitate to get in contact with us. We are here to help.