What is FRUITWALL?
FRUITWALL is an innovative system for storing fruits and vegetables, consisting of shelving that appear suspended in the air; they are easy to attach to the wall. They include fixed bolts with six light hanging trays. The result? More than 3.5 meters of shelving, ideal for keeping food at room temperature while occupying the least amount of space.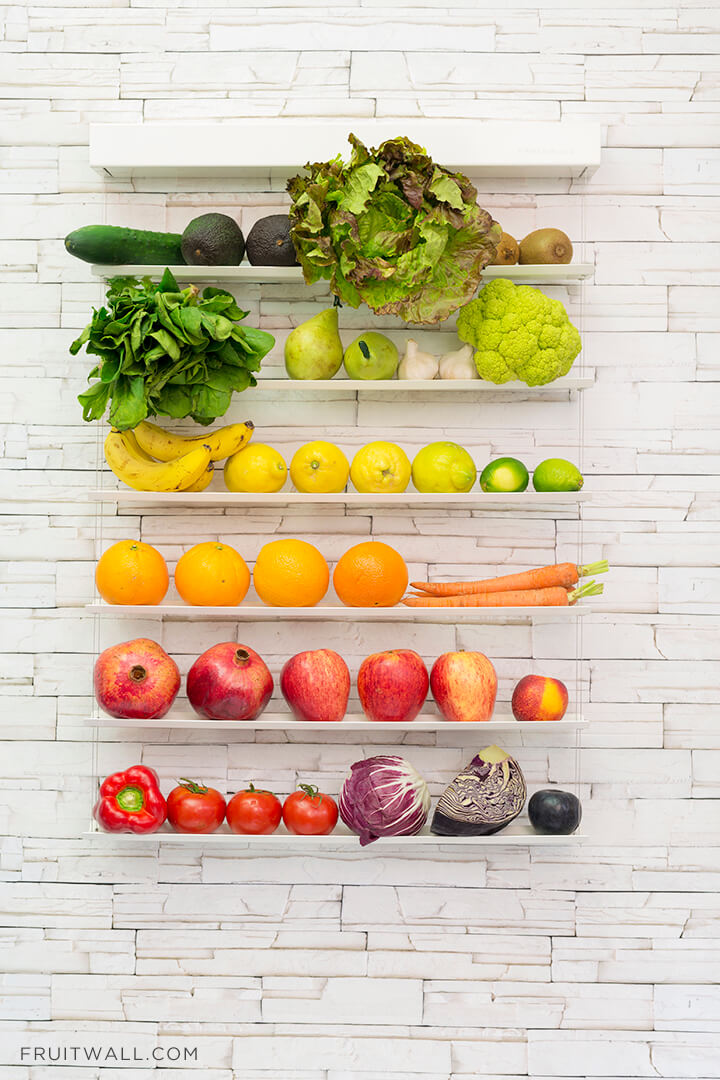 FRUITWALL has many useful advantages:
No Damage
FRUITWALL keeps fruits and vegetables separated so that they won't squash or bump each other, as they can in traditional fruit bowls or in the crisper of your refrigerator. As if you've just picked them from the tree!
More Space for…
Whatever you want! In the smallest space you'll have 3.5 meters of shelving to hold all of your fruits and vegetables…This also leaves free space in the fridge or countertop.
Nothing is Dumped
Is there a squashed orange at the bottom of the fruit bowl? Never ever! Because fruits and vegetables are where they can be seen, they are never unknowingly damaged. You'll never have to throw fruit away again. Think of what you'll save!
Put them in Order of Expiration!
Fruits and vegetables don't have expiry date like yoghurt does, or do they?
FRUITWALL lets you store each piece in order of consumption. That way you'll know which one to eat first, it couldn't be easier.
What should we eat today?
Easy! What we see. Baked pears, a vegetable pie… Seeing the ingredients makes it easier to decide what to cook. Are we out of apples? Add them to the shopping list!
Health within View!
It is easy to be healthy. With a healthy display like FRUITWALL, who could resist eating more fruits and vegetables? Before opening the fridge maybe you had better have some oranges as a snack, or a tomato salad for dinner.
What is Included?
FRUITWALL is delivered in a conveniently-sized package, which includes all the necessary elements for assembly.
1 steel bolt for attaching the product to the wall.
1 frontal cover that covers the support.
4 steel cables with ends included
6 aluminum trays covered with paint suitable for contact with food.
3 screws of the appropriate size for the bolt supports. Please buy the adequate plugs according to the make of your wall (check at your hardware store)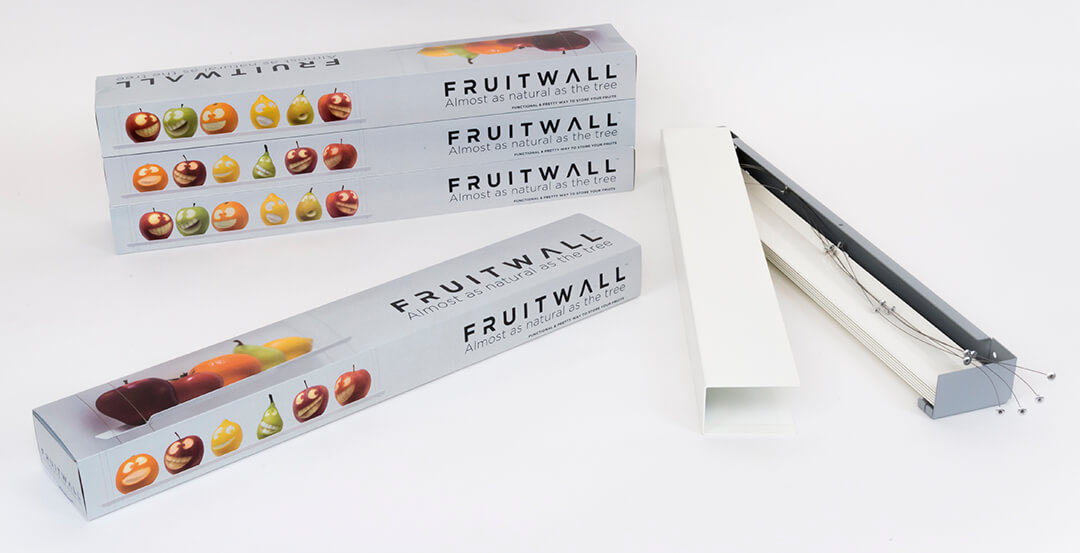 Any questions?
If you have any questions or comments, don't hesitate to get in contact with us. We are here to help.