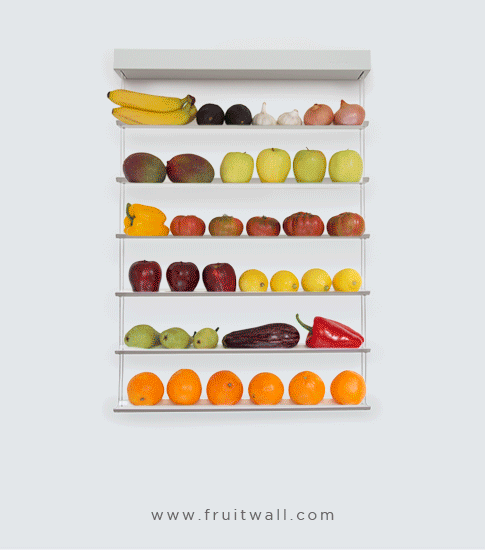 How is it installed?
In less than 5 minutes! Following these easy steps you'll have it on your wall in no time:

1
Place the bolt supports on the wall at the desired height. Draw with a pencil dots where the screws should go. Use a leveler to ensure that it will be completely straight.

2
Move away the support and drill three holes. Once you have done this, put in three pegs appropriate for the wall type, to ensure the strongest installation.

3
Put bolts up against the wall again and fix them with screws in the holes you made.
4
Put the steel cables through the bolts, through the lateral slots.

5
Place the shelves on steel wires where the endpoints are, just as you did with the bolts. Recommendation: you should start with the lower shelf so that cables will be more tense. This will make it easier to fix the other shelves.

6
Put the front cover on, fitting it into the bolts.
Done! You can now use your FRUITWALL.
Any questions?
If you have any questions or comments, don't hesitate to get in contact with us. We are here to help. We will answer you as soon as possible.
What is Included?
FRUITWALL is delivered in a conveniently-sized package, which includes all the necessary elements for assembly.
1 steel bolt for attaching the product to the wall.
1 frontal cover that covers the support.
4 steel cables with ends included
6 aluminum trays covered with paint suitable for contact with food.
3 screws of the appropriate size for the bolt supports. Please buy the adequate plugs according to the make of your wall (check at your hardware store)